I had the opportunity to anchor a solar conference in Hyderabad this Monday (Aug 22), and I was able to take away quite a few interesting insights from the event.
The conference, ProSolar, is an event put together by a business acquaintance, Mr Kesavan Sundara Murthy who is from the media sector. One must admire his persistent efforts to create awareness about solar energy in specific and renewable energy in general, through conferences and exhibitions.
This was the second edition of ProSolar, the first one done almost a year back.
I had anchored the first edition of ProSolar too, and I am glad to say that Kesavan has been able to bring together relevant experts in solar at one place for both the first one and then this.
I will be providing more detailed inputs about the event and key insights within the couple of days (I have been running about last one week, and just barely had time to put this brief note in!).
A quick overview and summary of the event in the meantime:
Overall, I was quite happy with the quality of expertise and insights provided at the event. While it was not a large audience, there were quite a few in the focussed audience who were keen on learning in depth – and that is gratifying.
The inauguration session, in my opinion, was the best of all the sessions. Now, that might sound very surprising, given that most inauguration sessions are usually protocol sessions of little value in which everyone speaks politically correct stuff (most conference delegates usually come late to avoid the usually boring inaugural session :-)).

In this case however, Kesavan had ensured he had some excellent folks on the stage for the inauguration. Really was impressed with both the quality of insights shared as well the conciseness with which it was shared (I am sure many of you are aware of scary hour long, rambling speeches by politicians! – none of that here). Insights were shared by TL Shankar, who is a highly respected former civil servant (who in spite of being in the mid eighties still found the strength to come and deliver a brief and interesting speech), EV Narasimha Reddy, MD of TSIIC (a highly accessible professional who was able to quickly adapt himself to the audience and the theme), GSV Prasad from TNREDCL (delivered a concise status of solar in Telangana), and Venkatachalapathy of NSIC and Ravi Shanker of Telugu One channel completed the list of speakers in the inaugural session.
As I mentioned earlier, it was a pretty diverse set of experts and professionals who were on stage for the inaugural session, and the audience did benefit from this diversity of insights. (Bureaucrats, Finance, Consulting and Media, all were on stage).

Later, I anchored the two main sessions of the day – one on status and key trends for solar in Telangana, and another on rooftop and distributed solar in Telangana.

There were quite a few interesting experts who participated in these two sessions, ranging from finance and IPP (MRS Srinivas of Akasam Consulting in Finance and Ajay Reddy of Mytrah Energy from the IPP sector), media (Sapna Gopal who is a well known journalist focussing on energy and environment sector), EPCs (Vishnu Reddy of Cyrus Solar), Education (P. Narasimha Reddy of Sreenidhi Institute of Science & Technology delivered an interesting and entertaining valedictory address), and finally Training (Vineet Goyal of the well known Steinbeis Solar Training Institute provided insights on the types of skills that are required for students to excel in the solar power sector).

We also had an interesting panel discussion to end the day.
Some pictures from the event.
Inaugural Session

EV Narasimha Reddy's Keynote Address
TL Shankar (middle) during the inaugural session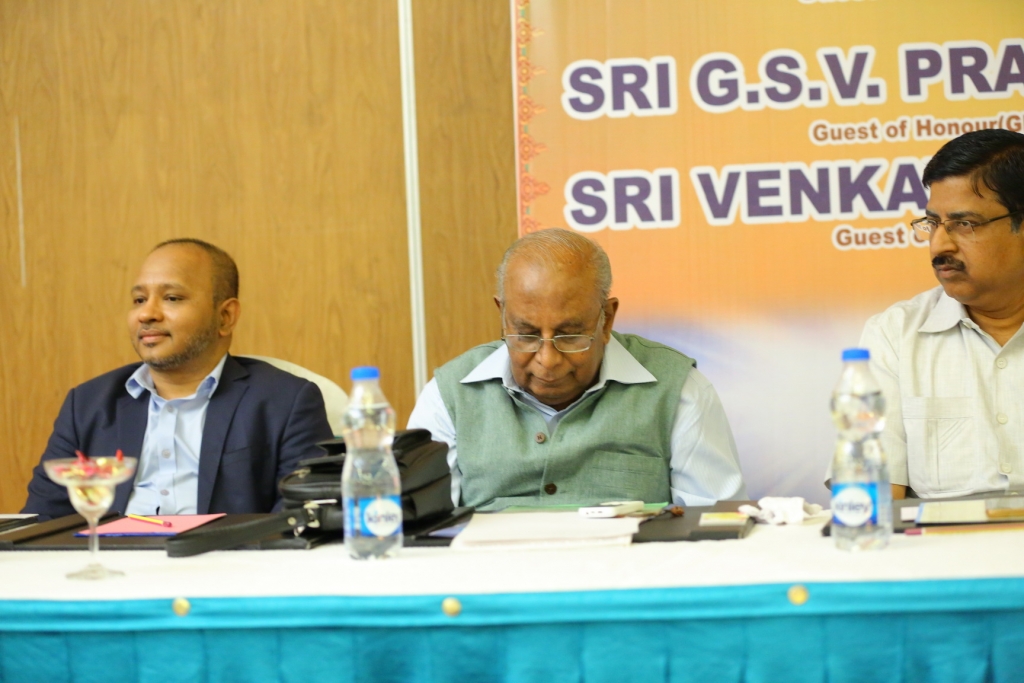 Ajay Reddy of Mytrah Energy during the session on Solar Energy Status and Trends
Kesavan Sundara Murthy delivering the vote of thanks
Related Posts via Categories