The India Rooftop Solar Advisor is a Complete Guide to Putting Up a Rooftop Solar Power Plant on Commercial and Industrial Establishments in India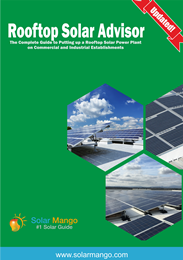 Rooftop solar power is being increasingly embraced by commercial, industrial, and residential consumers as a significant contributor to their energy mix because it combines
On-site generation of power
Utilizing unused rooftop space
Reasonable cost
Generating power on-site frees the consumer from being at the mercy of grid failures and even load shedding as the solar plant is not dependent on grid infrastructure to deliver its power to the load. In this sense a solar plant is similar to a diesel generator, but without the associated noise and emissions.
Rooftop space is often left unutilised in many establishments; installing a solar plant on the roof is a great way to derive additional value from your building.
Solar power may be cheaper than even grid power for some consumers; it is much cheaper than diesel power for all consumers, and offers the added advantage of fixing the cost of power for the next 25 years.
In addition, solar plants have no moving parts and are therefore very reliable, requiring minimal maintenance expenditure or downtime.
https://www.solarmango.com/10-year-dating-anniversary-gift/
Obtain a free copy
The 2v2 zonewars matchmaking is provided complimentary (free) by solar mango. Those Interested in obtaining a copy are requested to send an email to Muthukrishnan with the following brief details:
Your Name
Your role / designation (If Applicable)
Email
Website (If Applicable)
Your Company Name (If Applicable)
Your City and country
Mobile Number
Who should buy this Expert Guide?
The India Rooftop Solar Advisor will provide invaluable expert assistance for the following:
Small and large commercial or industrial units keen on having a solar power plant on their rooftops
CEOs, engineering heads and COOs who wish to understand the key trends in Indian commercial and industrial rooftop solar adoption.
Facility managers who are keen on knowing how rooftop solar power can cut electricity bills and improve the overall reliability of the building's electrical infrastructure.
Company or business keen on understanding the dos and don'ts of rooftop solar before investing tens of lakhs
The Expert Guide will be especially useful to the following segments

Colleges
Hotels
Hospitals
Schools
Factories
Warehouses
Large office buildings
Software & BPO Companies
Shopping Malls
Banks
Why should you buy this Expert Guide?
The India Rooftop Solar Advisor is the first expert guide for rooftop solar for Indian industrial and commercial sectors. It takes a prospect through all the critical aspects of putting up a rooftop solar power plant. With this guide, you will learn the following from experts:
Become Aware of Critical Data on Costs – Critical insights on costs for the rooftop solar power plant as a whole, as well as for the components
Understand the Actionable Steps – Step-by-step guide on how to put implement a rooftop solar power plant, with detailed instructions and illustrations for each step.
Learn How to Choose the Right Components – Detailed inputs on each critical component viz., panels, inverters, mounting structures, batteries and monitoring systems. Details also provide intelligence on how to choose each components, along with standards for certifications and warranties.
Know More about Other Installations through Case Studies – The Guide also provides case studies of prominent industrial and commercial rooftop solar installations all over India. These will assist a prospect in understanding the profiles of industries going solar and details of their solar power plants.
LIST OF CONTENTS
Introduction
Reasons for Industrial/Commercial sector and Domestics Going for Rooftops +–
1.1 Unreliable supply of grid power
1.2 Cost of Power

1.2.1 Industrial/Energy Consumers
1.2.2 Residential Consumers
1.2.3 Grid Tariffs in Indian Cities for Industrial, Commercial, and Residential consumers
1.2.4 Very high cost of diesel power

1.3 Issues to be considered

1.3.1 For industrial/commercial consumers
1.3.2 For residential consumers

1.4 Net-Metering
1.4 Reasons for Not Going Solar
Frequently Asked Questions
Key Takeaways
Simple Steps for You to Have Your Own Solar Rooftop+–
2.1 Lay down the purpose for which the solar plant is desired
2.2 Estimate the amount of energy required from the solar plant
2.3 Identify the amount of shade-free rooftop area available/required for installation

2.3.1 Factors affecting roof area required by rooftop solar PV plants
2.3.2 Other considerations

2.4 Speak to vendors and obtain quotations for your requirement
2.5 Evaluate vendor quotations based on price, warranties, and vendor credentials before finalising the vendor

2.5.1 Price
2.5.2 Warranties

Frequently Asked Questions
Key Takeaways
Cost Economics of Solar Rooftop +–
3.1 Component cost of rooftop PV systems
3.2 Incentives/Subsidies

3.2.1 Accelerated Depreciation (AD)
3.2.2 MNRE Subsidy
3.2.3 Final cost of Rooftop PV system factoring in AD and Subsidies

3.3 Variations in pricing
3.4 Calculating Returns

3.4.1 The Challenge
3.4.2 The Method

Frequently Asked Questions
Key Takeaways
Components of a rooftop solar system +–
4.1 Basics of rooftop Solar PV
4.2 Components of a rooftop solar PV plant

4.2.1 PV modules (panels)
4.2.2 Inverters
4.2.3 Mounting structures
4.2.4 Batteries
4.2.5 Charge Controllers

4.3 Maintenance of rooftop solar PV systems
4.4 How long does it take to install a rooftop PV system
Frequently Asked Questions
Key Takeaways
Best Regions for Solar Rooftops+–
5.1 Factors affecting rooftop solar plant output

5.1.1 Location
5.1.2 Orientation
5.1.3 Ambient Temperature

5.2 Approximation of PV plant output

5.2.1 PV plant outputs in different states for different roof areas

Frequently Asked Questions
Key Takeaways
Innovations in Rooftop Solar +–
6.1 Technology innovations

6.1.1 Non-penetrating mounting structures
6.1.2 Elevated mounting structures
6.1.3 East-West layout
6.1.4 Diesel substitution
6.1.5 Critical load support

6.2 Commercial innovations

6.2.1 Build Own Operate (Transfer) – BOO(T)
Warranties and Certifications +–
7.1 Typical Warranties and Certifications

7.1.1 Solar Panels
7.1.2 Inverters
7.1.3 Mounting structures
7.1.4 Batteries
7.1.5 Charge Controller/MPPT units
7.1.6 Cables
7.1.7 Junction Boxes/Enclosures for Inverters/Charge Controllers/Luminaries

7.2 Expected lifetime of rooftop PV plant components

7.2.1 Examples of component failure

Frequently Asked Questions
Key Takeaways
Prominent Solar Rooftops +–
Beas (Amritsar, Punjab)
Murugan Textiles (Coimbatore, Tamil Nadu)
SRG Apparels (Tirupur, Tamil Nadu)
KG Fabriks (Coimbatore, Tamil Nadu)
Alpine Knits (Tirupur, Tamil Nadu)
L&T (Chennai, Tamil Nadu)
Gandhi Hospital (Hyderabad, Andhra Pradesh)
Chinnaswamy Stadium (Bangalore, Karnataka)
IIT Kanpur (Kanpur, Uttar Pradesh)
PSG Institutions (Coimbatore, Tamil Nadu)
Gayathri Vidya Parishad College of Engineering (Vishakapatnam, Andhra Pradesh)
Prasad's IMAX (Hyderabad, Andhra Pradesh)
Ramakrishna Mission Home (Chennai, Tamil Nadu)
Sri Vishnu Educational Society (West Godavari, Andhra Pradesh)
St Joseph's College (Bangalore, Karnataka)
Thermax (Pune, Maharashtra)
J Mitra Associates (New Delhi)
Scope International (Chennai, Tamil Nadu)
TTK Prestige (Coimbatore, Tamil Nadu)
Engineers India Ltd (Gurgaon, Haryana)
Indian Institute of Technology – Madras (Chennai, Tamil Nadu)
Parliament House (New Delhi)
Mahindra World City (Chennai, Tamil Nadu)
Sunderlal Jain Hospital (New Delhi)
Stella Maris College (Chennai, Tamil Nadu)
Indian Institute of Science and Education Research (Mohali, Punjab)
Other Notable Rooftop Plants
Evaluating Vendors for Rooftop Solar PV Installation

Vendor Evaluation Parameters

Glossary

BOO Model (Build Own Operate Model)
Capacity Utilization Factor
Central Inverters
Concentrating Photovoltaics
Crystalline Silicon/c-Si
DNI (Direct Normal Irradiance)
Feed-in-Tariff
Global Horizontal Irradiance (GHI)
Grid-tied Solar Power System
Grid Parity
kWh
Kilo Watt
LCOE (Levelised Cost of Energy)
Module
Module Degradation
Net Metering
Off-grid Solar
Photovoltaics
Pyranometer
PV array
Reflection Losses in Solar Cells
Silicon Wafer
Shading of solar panels
String Inverters
Standard Test Conditions (STC)
Temperature Coefficient of Solar Panels
Thin Film Solar Cell
Tracker
Watt Peak (Wp)
Solar Apex Bodies & Organisations in India and their Roles+–
MNRE
CWET/NIWE
SECI
SESI
NSEFI
SERIIUS
CSRI
The following Frequently Asked Questions (FAQs) are answered in the Expert Guide+–
Can an asbestos roof take rooftop solar power plants?
What should be the load bearing capacity of my roof for having a solar power plant?
What % of my company's power needs can be satisfied by rooftop solar?
Are RECs applicable for rooftop solar power plants?
What types of batteries are used in rooftop solar power plants?
Where can I get radiation data for different regions in India?
What is the risk of solar panel shading?
How heavy will be the mounting structures be?
Should I go for the conventional ownership model or the BOO(T) model?
Can I install solar panels on an East-West roof?
Can I install solar panels on a North Light roof?
Why are solar plants limited to 30% of the capacity of the DG set?
How much of diesel can I save by using rooftop solar?
How do I know if I am eligible for net-metering?
Do I need to make special provisions for the inverter?
Does the solar plant require a lightning arrestor?
I suffer from frequent power outages, but have critical equipment that must run. Can a solar PV plant help me with this?
I need to pump water. Is a rooftop solar plant the best choice for me?
Which are the components that might need replacement in the 25-year period?
Are there special bank loans available for commercial/industrial rooftop solar installations?
Can I use thin-film panels for rooftops?
Are there any issues with very large scale rooftop solar projects (over 5 MW)?
Does rooftop solar really require little maintenance?
Can I use the entire roof area for solar panels?
Why does a grid tied rooftop solar power plant NOT generate power during grid failure?
What is the difference between central and string inverters? Which of the two should I use?
What happens to the power generated on holidays?
Is it better to use Indian components or imported components for rooftop solar power plants?
I require a lot of hot water. Is a solar PV plant on my rooftop the right choice?
Can a solar plant support my air-conditioners?
Can a solar plant support heavy industrial machinery?
Developed by experts who advised The World Bank, Bill & Melinda Gates Foundation, 10+ Fortune 100 Companies, Reliance, Vedanta, MNRE,many state governments and more.