Are You Planning to Set Up a Module Manufacturing Unit?
Use Solar Mango's Solar PV Module Market Report to benefit from our specialized expertise in the solar module sector.
The Price of Solar Module Manufacturing Guide is Rs. 24000/- Only.
https://www.solarmango.com/upward-dating/
FREE SAMPLE GUIDE AVAILABLE-
Download HERE
About the Report
India installed close to 10,000 MW of solar power plants in the year 2017 alone and cumulatively India's installed solar capacity has exceeded 20,000 MW by Jan 2018. In 2018 and until 2022, India is expected to install 10,000 MW or higher each year.
This represents a large growth for the solar power sector. This also represents a large opportunity for the Indian solar module producers.
While the Chinese competition and other constraints exist, Solar Mango expects the government to play a catalyst role to ensure that Indian solar module makers get enough support and benefits.
Given all the above, Solar Mango is being approached by many small, medium and large businesses keen on setting up solar module production plants.
In order to assist these businesses and entrepreneurs, Solar Mango has come up with an updated version of the India Solar PV Module Manufacturing expert report.
The data, inputs, insights and analyses from this expert guide will be highly valuable to any business keen to understand the Indian solar module manufacturing opportunity – the market sizes, technology options, investment required, expected returns and other key market and competitor information.
Who should purchase this report?
This report would be invaluable for the following stakeholders and professionals
Entrepreneurs, startups and businesses keen on venturing into module manufacturing business
Banks and financial institutions keen on knowing the latest investments and returns in the sector
Other key solar power sector stakeholders – EPCs, power plant developers, system integrators, component manufacturers and support service providers who are keen on vertical integration into solar module manufacturing
Industry consultants
Solar module making machinery line makers to understand the current and emerging solar power market in India better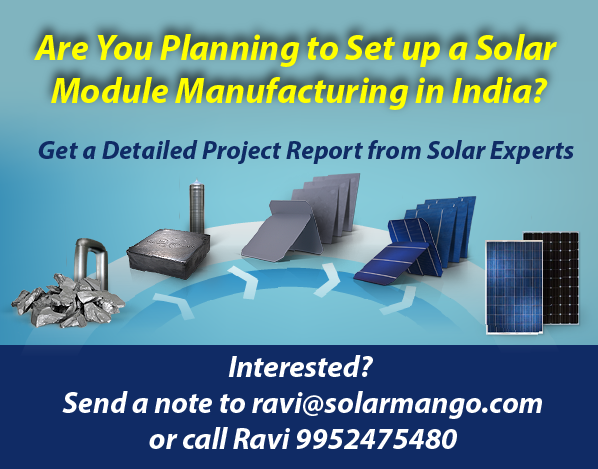 Why should you purchase this report?
The pouring investments to establish India as a solar manufacturing destination along with the central government's push to incentivize domestic manufacturing through its' Make in India program has created a positive sentiment for setting up solar module units in the country.
However, there has been some apprehensions in the market about the market and business potential of solar module manufacturing business despite the fact that investment needs are not quite high.
This report can help you in providing a comprehensive overview of the current status of the solar module market and its business potential. The report also incorporates the following aspects:
Frameworks that assist businesses in establishing sales partnerships, module line technology selection, raw material selection etc.
Comprehensive study of the cost structures and expected returns from a module plant
Detailed demand-supply analysis and import-export trends for module manufacturing in the country.
Detailed regulatory assessment and policy analysis
Why is this report unique?
The India Solar Module Manufacturing report from Solar Mango provides distinct value and benefits to the reader:
Written by Solar Mango's consulting experts, who have been working extensively in the Indian solar sector right from 2010
Based on extensive discussions with all the key stakeholders in the Indian solar market – power plant developers, solar manufacturing equipment producers and system integrators, other solar module producers, suppliers of cells and raw materials, EPCs and government officials.
Provides balanced views and perspectives on all the important decision making parameters – market status and drivers, Indian and global solar power trends, key market segments, sales channels and government policies
Extensive, authentic data points that will be invaluable to investors – on market demand and supply, competitors, capital and operating expenses, raw materials and equipment suppliers, timelines and project schedules, and more
The report was updated in Apr 2018. For a fast changing market such as solar power, it is critical that the latest updates on costs and solar power plant installations and policies are available to the investor.
Who is Solar Mango?
Solar Mango is the #1 Solar Guide.
Established as part of EAI, India's leading renewable energy and cleantech consulting firm, Solar Mango provides comprehensive market and management consulting to the entire solar energy value chain in India – from upstream polysilicon manufacturing to downstream power plants and off-grid solar. We have assisted over 1000 Indian international companies through our consulting and reports. Our research team has had the fortune to assist leading companies/organizations such as Reliance, Vedanta, GSK, GE, the World Bank, Bill & Melinda Gates Foundation and more.
Solar Mango's expert team has also published acclaimed industry reports for the solar energy sector – for entrepreneurs, for solar power plant developers, for EPCs and for those keen on installing rooftop solar power plants.
In addition to the rich experience of its expert team, Solar Mango also has one of the largest contact networks in the Indian solar power sector, with high end professional contacts for every point in the value chain, and in every corner of India.
Finally, Solar Mango also runs India's largest web resource for the Solar energy sector @ www.solarmango.com .
To know more on how Solar Mango can help your organization explore business opportunities in the solar PV manufacturing space,
Send an email to Dharini–Dharini@eai.in or Call +91 7358263274

FREE SAMPLE GUIDE AVAILABLE-
Download HERE
India Solar Module Manufacturing Report – Table of Contents
1.Indian Solar PV Industry Status and Current Trends +–
Introduction
Solar Photovoltaics
Current Solar Photovoltaic Market Scenario
Demand and Supply of Modules
Solar Modules in India- Industry Trends
Major Module Manufacturers
Drivers and Barriers for Solar PV Module Investments
2.Basics of Modules – Technology Involved+–
Introduction
Modules

Technology Options – Crystalline Silicon vs. Thin Film
Crystalline Module Making

Machines and Equipments
Conditions of Sale
Testing and Certification of Modules
Recent Technology Developments
3.Investment and Returns+–
Capital Costs for a Turnkey Module Assembly Line
Cost of Equipment
Chinese versus European Equipment
Cost of Production
Returns – Cash flow, IRR, Payback Period
Government Incentives to Support Solar PV Manufacturing
Introduction
Project Completion Risk
Country and Financial Risks
Operational Risks
Market Risks
Raw Material Risks
Introduction
Preparation of Prefeasibility Study
Preparation of Detailed Project Report
Technology Partner
Selection of Raw Material Suppliers and Entering into Memorandum of Understanding (MOU) with Them
Achieving Financial Closure of the Project
Implementation of the Project
Module Testing and Certification
Contacting Government Officials
ANNEXURE – I
List of Solar PV Module Manufacturers – India
List of Solar PV Cell Manufacturers – India List of Solar PV Cell Manufacturers – Global
ANNEXURE-II
List of EVA/Back sheet/ Front sheet/ PET/ TPT/TPE/PVB & TCO Manufacturers – Global
ANNEXURE – III
List of Manufacturers of Connectors – Global
ANNEXURE – IV
List of Ribbon Manufacturers – Global
ANNEXURE – V
List of Manufacturers of Cables – Global
ANNEXURE – VI
List of Frame Manufacturers – Global
ANNEXURE – VII
List of Glass Manufacturers – Global
ANNEXURE – VIII
List of Junction Box Manufacturers – Global ANNEXURE – IX
List of Turnkey PV Module Line Suppliers ANNEXURE – X
Sample Quotes of Equipments
India Solar PV Module Manufacturing – A Strategic Report
Buyers will get all updated Expert Guide for the next one year at no additional cost. The Advisor will be updated once every two months or earlier.
You can purchase through Bank Wire Transfer, Cheque and Credit Card
The price of the Expert Guide is Rs 24000/- Only (US $150)
Contact Dharini to know more about purchasing the Expert Guide.
Mob: +91-7358263274, dharini@eai.in