Wish to start a manufacturing facility for solar PV in India? Let EAI Solar Mango's unparalleled knowledge and experience in this sector assist you.
Solar Mango assisted a global mining and metals enterprise to comprehensively understand the complete PV value chain for their diversification efforts
A Top 3 Wind OEM turned to Solar Mango for assistance in their diversification into the Indian Solar PV Inverter segment
Solar Mango has assisted many companies in undertaking a complete feasibility analysis for setting up solar module assembly units
With the huge thrust provided by the Modi government on "Make in India" for solar, one can expect enormous government thrust and tangible and intangible incentives provided by the centre and states. With the government setting a super-ambitious target of 100 GW of solar by 2022, the sector is staring at a possible $100 billion plus (6 lac crore plus ) investments in the next 5-7 years. This is a humungous opportunity that has most Indian businesses wanting to be a part of.
At the same time, the solar PV manufacturing sector has significant challenges. Some parts of the value chain such as polysilicon manufacturing have no domestic players but are high risk investments,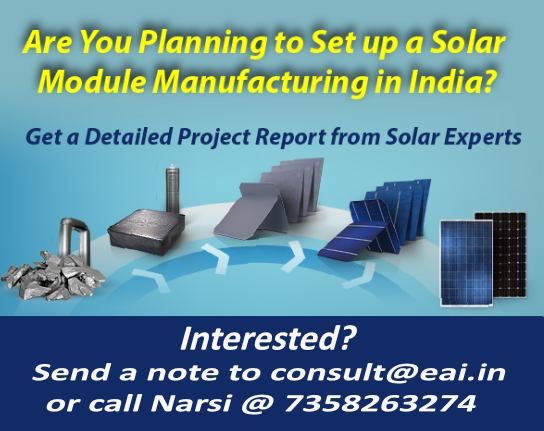 This is why it is critical for a company aspiring to enter the solar PV manufacturing sector to have a thorough understanding of this sector before they make investment decisions.
Solar Mango is one of the few firms in the country that has the expertise to provide consulting assistance for manufacturing opportunities along the entire solar PV value chain – from polysilicon to cells to modules to power plants and all the way to off-grid products.
Polysilicon ➜ Wafers & Ingots ➜ Cells ➜ Modules ➜ Solar Off-grid Products ➜ Solar PV Components
Our consulting services for solar manufacturing opportunities cover:
Solar Manufacturing Potential Analysis

The Solar PV sector has a long manufacturing value chain, starting with very high capex products such as polysilicon to mom-and-shop assembly opportunities for off-grid solar products. With our long acquaintance with every segment of the solar PV manufacturing value chain, we can provide in-depth insights and analysis on each and every value chain component, and also identify niche and emerging opportunities within each of these components.

Financial Feasibility Analysis of Solar Manufacturing

Analysing the financial feasibility is a critical activity, as many solar manufacturing projects are high capex projects, and hence require rigorous financial due diligence. In addition, a significant number of variables can affect finaicial feasibility, and thus any consulting firm undertaking the financial feasibility study should possess a deep understanding of these variables, With our thorough understanding of every key component in the solar manufacturing sector, we can develop sound feasibility analysis for those entering the solar manufacturing, and provide detailed financial models for different scenarios.

Competitor Analysis

Some parts of the solar PV value chain has little Indian competition (eg: polysilicon and wafers/ingots), while some others such as modules and cells have significant domestic competition. For a new entrant in solar manufacturing, we evaluate the competitive landscape within the sector, with a detailed look at the strengths and weaknesses of principal competitors.

Identification of Key Success Drivers

The solar power sector in India and worldwide (and thus, the solar manufacturing sector) is still dependent on incentives or at least assistance from central and/or state governments, though this situation might change for the better in the next two years owing to the increasing competitiveness of solar power. There are other key drivers for the business too. For instance, a key requirement for polysilicon manufacturing is the availability of economical and uninterruptible power. With each such driver having the potential to make or break, any entrant into the solar PV manufacturing sector will need to critically identify and analyse all the key drivers (regulatory, economics, market factors such as energy security) to arrive at an optimal inference for investments. Solar Mango will be your most powerful consulting partner for doing such analysis.

Identification of Technology or Marketing Partners

Depending on the solar sector, the client might require a joint venture with other Indian or global leaders in the respective segments. In the context of MW Scale solar inverters for instance, there is no indigenous Indian company having the technical ability to manufacture these completely in India currently. Thus a prospective solar inverter manufacturer might need to look for technology partners from Europe or USA. Solar Mango is one of the most well-connected firms in the Indian solar energy sector, and with our popular web resource, online community and the country's largest renewable energy newsletter, we also have exceptional contacts with the key solar sector players worldwide. Using this unique intersection of industry knowledge and connections, we can assist in identifying and shortlisting the most effective technology and marketing partners for your manufacturing operations.
As one of the few companies in India who has undertaken strategic and techno-economic feasibility studies for every component of the solar PV business value chain, Solar Mango will be an invaluable partner and guide for you in your exploration into the solar PV manufacturing.

Get to Know More
Download Our Solar Strategy Consulting Brochure
About Us
Our specialized consulting division provides assistance in market research & business intelligence, market potential analysis, strategy consulting, technology vendor/supplier finder, technology & business due diligence, M&A assistance and more for the complete clean energy, environment and sustainability value chain.
We have assisted a range of stakeholders, small businesses/SMEs, startups, large corporations, state and central government, venture capital companies, private equity firms, investment banks, NGOs and more. Send a note to consult@eai.in if you wish to take our consulting help.
Our specialized consulting has benefitted clients all across India and select countries outside:
We has provided consulting & industry research assistance across India, having clients who have benefitted from our consulting or research from the following cities:
Ahmedabad | Amravati | Amritsar | Asansol | Aurangabad | Bangalore (Bengaluru) | Belgaum | Bhavnagar | Bhopal | Bhubaneswar | Bikaner | Chandigarh | Chennai (Madras) | Coimbatore | Cuttack | Dehradun | Delhi | Dhanbad | Durgapur | Faridabad | Firozabad | Gandhinagar | Gangtok | Ghaziabad | Guntur | Gurgaon | Guwahati | Gwalior | Hyderabad | Indore | Jabalpur | Jaipur | Jalandhar | Jalgaon | Jammu | Jamnagar | Jamshedpur | Jodhpur | Kalyan | Kanpur | Kochi (Cochin) | Kolhapur | Kolkata (Calcutta) | Kota | Kozhikode | Lucknow | Ludhiana | Madurai | Mangalore | Meerut | Mumbai (Bombay) | Mysore (Mysuru)| Nagpur | Nashik | Navi Mumbai | Nellore | Noida | Patna | Pimpri & Chinchwad | Pune | Raipur | Rajkot | Ranchi | Salem | Sangli | Solapur | Surat | Thane | Thiruvananthapuram (Trivandrum) | Tiruchirapally (Trichy) | Udaipur | Vadodara (Baroda) | Vijayawada | Vishakapatnam | Warangal
Countries worldwide where we have assisted clients through research reports or consulting
Australia | Austria | Bahrain | Belgium | Brazil | Canada | Chile | China | Croatia | Czech Republic | Denmark | Estonia | Finland | France | Germany | Hong Kong | Hungary | Greece | Iceland | India | Indonesia | Ireland | Israel | Italy | Japan | Kuwait | Latvia | Lithuania | Luxembourg | Malaysia | Malta | Mexico | Netherlands | New Zealand | Norway | Portugal | Republic of Korea (South Korea) | Russia | Saudi Arabia | Singapore | Slovakia | Slovenia | South Africa | Spain | Sweden | Switzerland | Thailand | Tunisia | Turkey | United Kingdom (UK) | United States of America (USA)
Specific Domains We Operate in
Solar Energy
Solar PV– Rooftop Solar | Residential Rooftop Solar | Commercial & Industrial Rooftop Solar | Ground Mounted Solar Farms | Solar Farm Operations & Maintenance | Solar Farm Monitoring & Control | Solar Power Integration with Grid | Offgrid Solar | Solar Water Pumps | Solar Street Lights | Off-grid Solar Homes ||| Solar PV Components – Solar Trackers | Single Axis Solar Trackers | Dual Axis Solar Trackers | Solar Inverters | Solar Power Plant Central Inverter | Solar Power Plant String Inverter | Solar Power Plant Micro-Inverter | Solar PV Mounting Structures | Solar Power Plant Monitoring & Control Systems | Solar PV Wafers | Solar PV Cells | Monocrystalline Solar Cells | Polycrystalline Solar Cells | Thin Film Solar Cells | Bifacial Solar Cells | Solar Modules/Panels | Solar Panel Backsheets | Solar Panel Aluminium Frames | Solar Panel Encapsulants | Building Integrated Solar PV | Solar PV Storage | Concentrating Solar PV |
Solar Thermal – Low-Temperature Solar Thermal | Solar Water Heating | Solar Cooking | Solar Drying | Medium & High Temperature Solar Thermal | Medium Temperature Commercial & Industrial Heating Using Solar Thermal | High Temperature Industrial Heating Using Concentrated Solar Thermal | Concentrating Solar Power | Storage for Concentrating Solar Power | Fresnel Lens based Concentrating Solar Power | Power Tower based Concentrating Solar Power | Parabolic Trough based Concentrating Solar Power | Dish based Concentrating Solar Power | Hybrid Solar Energy | Solar Wind Hybrid | Solar Biomass Hybrid | Solar PV / Thermal Hybrid
Bio-Energy
Bio-energy for Heating – Combustion-based Biomass Heating | Gasification-based Biomass Heating | Anaerobic Digestion based Biomass Heating
Bio-energy for Power – Combustion-based Biomass Power | Gasification-based Biomass Power | Anaerobic Digestion based Biomass Power | Biomass Combined Heating & Power | CHP Boilers for Biomass | Operations & Maintenance for Biomass-based Energy Plants | Biomass Storage | Biomass Pre-processing | Biomass Ash Management,
Bio-energy for Transportation – Ethanol | First Generation Ethanol | Second Generation Cellulosic Ethanol | Biodiesel | Biodiesel through Transesterification | Hydrogenated Vegetable Oil – HVO | Bio-butanol | Bio-methanol | Bio-CNG | Aviation Biofuels
Other Bio-energy – Biogas | Syngas
Bio-Energy Crops – First Generation Bio-energy Feedstock | Agricultural Waste Feedstock | Dedicated Energy Crops | Perennial Biomass Bio-energy Feedstock | Prominent Biomass Feedstock for Heating & Power | Sawdust for Heating & Power Generation | Rice Husk for Heating & Power Generation | Paddy Straw for Heating & Power Generation | Bagasse for Heating & Power Generation | Julieflora for Heating & Power Generation | Bamboo for Heating & Power Generation
Energy Storage
Electrical Storage – Capacitors | Superconducting Magnetic Energy Storage | Chemical Storage | Hydrogen Storage | Fuel Cells
Electrochemical Storage – Battery | Lead Acid Battery | Lithium Ion Battery | Emerging Battery Types | Sodium Sulfur Battery | Solid State Batteries | Battery Management Systems
Mechanical Storage – Pumped Hydro Energy Storage | Flywheel Energy Storage | Compressed Air Energy Storage
Sustainable Transportation
Sustainable Transport – Two Wheelers | Bicycles | Electric Bicycles | Electric Motorbikes | Electric Scooters | Electric Three Wheelers | Sustainable Car Transport | Electric & Hybrid Electric Cars | Battery-based Electric Cars | Hybrid Electric Cars | Plug-in Hybrid Electric Cars | Fuel Cell Electric Cars | Electric Light Commercial Vehicles | Electric Mini Trucks & Vans | Electric Buses | Fuel Cell Buses | Electric Heavy Commercial Vehicles | Electric Trucks | Sustainable Rail Transport | Sustainable Aviation | Fuel Cell Vehicles | Sustainable Transport Infrastructure | EV Charging Infrastructure | DC Charging for Electric Vehicles | AC Charging for Electric Vehicles | Battery Swap Stations for Electric Vehicles | Hydrogen Fueling Infrastructure | Sustainable Transport Fuels and Fuel Standards
Sustainable Transport Fuels – Biodiesel | Ethanol | Bio-CNG | Other Biomass-based Liquid Fuels | Hydrogenated Vegetable Oil – HVO