Trapping the Sun's Energy with Smarttrak's Trackers
-An Interview @REI 2016
Smarttrak Solar Systems is India's first company to offer indigenous tracking solutions. They primarily manufacture single and dual axis trackers along with solar water pumps and weather monitoring systems. Founded in 2011, the company has seen exponential growth in terms of sales over the last two years, especially with trackers finding acceptance in solar power projects.
With a pan-India presence, Smarttrak has pretty much captured the lion's share of the market for trackers. They are known for their expertise in single axis trackers and are strategic partners to major industry giants like Waaree, Tata Power Solar, Photon Energy and others. With over 80 solar projects under their belt, Smarttrak is now exploring different verticals of the solar industry.
Solar Mango team was able to catch up with Mr.Abhilash Reddy A, Director, Smarttrak Solar Systems and his team, for a brief interview during the recent REI Expo 2016, held at Noida. A quick snapshot of the interview is given below: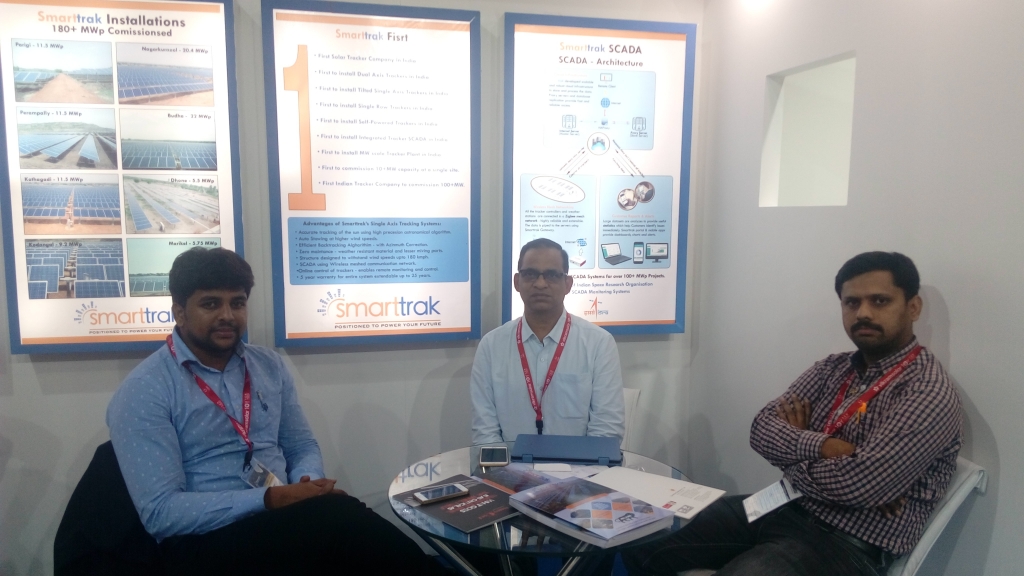 Interview with Smarttrak
What are the key products and solutions Smarttrak provides to the Indian solar sector?
Smarttrak offers robust, reliable and durable trackers for solar power plants. These trackers are pretty much maintenance free and are highly cost effective. With our single axis trackers, you can expect up to 23% more output when compared to fixed tilt solar systems. When it comes to dual axis trackers, this increase can go up to 35%.
Most of our products are indigenously manufactured and we are able to cater to a large market because of our pan-India presence. Our mechanical trackers are designed to withstand harsh environmental conditions and come with excellent online monitoring access, whereby the stakeholder can monitor the performance of the trackers as an when he desires.
Which are the key end-user segments for your products and solutions?
We currently mainly cater to ground-mounted solar projects.
What are the highlights and USPs of your products and solutions?
We would like to say the highlight or USP of our product would be the bearings we provide for our solutions. The bearings used ensure that there is little wear and tear when it comes to the mechanical trackers and help them be highly maintenance free. We strive to ensure that our design and structures make the solar plant generate more electricity each day without being prone to damages.
Any future products and solutions you are coming up with for the Indian market?
We have introduced microinverters for the Indian solar market. These inverters use smart technologies that further enhances production from a solar power plant.
Over and above our tracking solutions and micro inverters, we have also launched string combiner boxes for solar power plants.
What are the key learnings you have had from the Indian solar energy sector so far?
When it comes to trackers, we have found that cost-effective, plug and play solutions have a large number of takers in the solar industry.
Right now, we are also looking at providing customized solutions to our clients, in order to cater to a larger market
What, according to you, are the key challenges faced by the Indian Solar market?
According to us, the biggest challenge is the delay in decision making when it comes to solar power projects. Numerous discussions are held and the decision making keeps being delayed.
Another issue is the fact that nobody seems to be aware of the actual prices of solutions provided in the solar industry. Customers also keep waiting for the prices to fall and at the end of the day, again decisions are postponed. We expect this trend to continue for the next two to three years and by then we expect the industry to overcome this challenge.
Related Posts via Categories