Solar is the buzzword in the Indian energy sector now. So many companies – small and large – have been entering this high potential sector every year or even every month. While many companies from unrelated domains are keen to enter the solar sector, one can easily imagine how much thrust companies in the power and energy sector will give to expand rapidly in solar.
Jakson is one of the leading power solutions provider company in India. They are here for close to 7 decades and been in almost every aspect of the power sector. Jakson began its journey as a small electrical trading house in the year 1947. They slowly diversified into distributorship of switchgear equipment and then to gensets manufacturing in 1981. In 1991 they set foot into providing turnkey solutions in power generation sector. In 2011, when the solar boom began, the Jakson group decided to play a big role in it. The company made a foray into solar power generation with the commissioning of 30 MW project. They are now into solar module manufacturing, Solar EPC contracting, Solar products and sub-components manufacturing.
Riding high on initiatives taken by the government to promote solar energy, Jakson Group is eyeing nearly Rs 1,000 crore revenue from this segment alone in FY17 out of the total Rs.2500 crore revenue from all verticals put together. Currently, Jakson has a 75 MW solar module manufacturing unit and it is looking to increase the capacity to 250 Crores over the next two years.
Solar Mango team was able to catch up with Mr.Javed Khan, Business Manager – Solar Business and Mr.Dinesh Kumar Khanchandani from Corporate communications of Jakson for a brief interview during the recent REI Expo 2016, held at Noida. A quick snapshot of the interview is given below: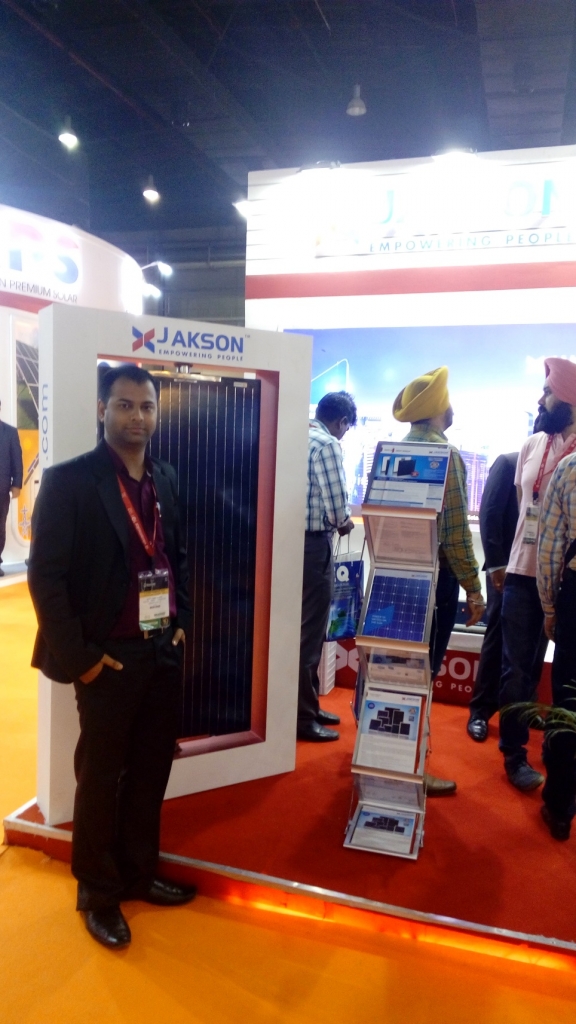 Interview with Jakson Engineers Limited
What are the key products and solutions Jakson provides to the Indian solar sector?
Jakson as a group has 6 verticals – Manufacturing Gensets and Equipment, Manufacturing LV-MV Switchboards, Solar, Electrical & Civil EPC, Hospitality and education. In Solar, we are into Solar EPC business, module manufacturing, solar components manufacturing and solar off-grid products manufacturing.
Which are the key end user segments for your products and solutions?
We work with a variety of end user segments for our solar EPC business – Government sector for rooftop solar EPC, Indian Railways for solar on passenger trains, Large PSUs etc.
Rural area electrification is one other key area where we are operating – we provide Solar inverters, on-grid and off-grid solutions.
What are the highlights and USPs of your products and solutions?
Our products are designed especially for Indian weather conditions. In EPC solutions, we are well-known in the market for very fast turn-around times. We have completed large projects within as short as 20 days!
Any future products and solutions you are coming up with for the Indian market?
We are going to increase our module manufacturing capacity to 250 MW from the present capacity of 75 MW in 2017. We will also be focusing on bringing more efficient solar products for the Indian rural market segment.
What are the key learnings you have had from the Indian solar energy sector so far?
India Solar market is a big potential market. Lot of scope is there for solar rooftop projects and village electrification.
What, according to you, are the key challenges faced by the Indian Solar market?
Land acquisition has been a big challenge for large utility-scale projects. Logistics is also an issue due to poor infrastructure in certain states.
Related Posts via Categories