Full vertical integration is a dream for almost all solar companies as it gives them the ability to control their supply-chain and have a cost-competitive system. Across the solar board, vertically integrated companies show some of the strongest growth and the largest market share.
RenewSys India's (a leading manufacturer of EVA and Encapsulants in India) vertical integration into Solar module and Cell manufacturing is one of the recent cases in Indian Solar industry.
RenewSys is a leading manufacturer and Exporter of EVA Encapsulants, PV Backsheet film, Solar Cell sheet and Bus-bar insulation sheet. Via its acquisition of Solar Semiconductor Pvt Ltd, RenewSys entered the OEM cell and module manufacturing business. While acquiring Solar Semiconductor's facility at Hyderabad, they got 30 MW cell manufacturing line and 100 MW module manufacturing line. Quickly within a year, they have expanded to 100 MW Cell manufacturing and 200 MW module manufacturing.
The company manufacturers EVA Encapsulant CONSERV, Backsheet as well as Bus-bar insulation sheet PRESERV, Solar Cells RESERVE, Photovoltaic Modules DESERVE and customized PV Modules for OEM. It owns two manufacturing facilities in Bengaluru and Hyderabad in India. The Bengaluru Division produces Encapsulants and Backsheets which are critical components in the manufacture of PV Solar Modules. It has an installed capacity is 1.2 GW of Encapsulants and 1.8 GW of Backsheets.
Renewsys is part of the Enpee Group of companies which is a transnational conglomerate with over 50 years of experience in diversified interests in Packaging solutions, Construction products, FMCG, Energy and Chemicals with manufacturing activities in Nigeria and India.
Solar Mango team was able to catch up with Mr.Avinash Hiranandani, Managing Director of RenewSys India Pvt Ltd for a brief interview during the recent REI Expo 2016, held at Noida. A quick snapshot of the interview is given below: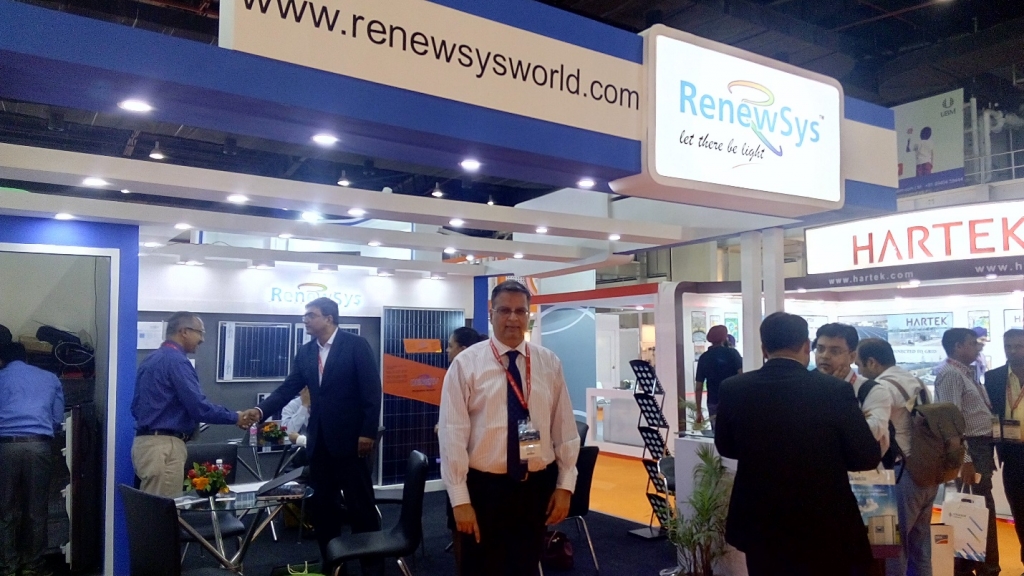 Interview with RenewSys India Pvt Ltd
What are the key products and solutions RenewSys provides to the Indian solar sector?
RenewSys makes EVA Encapsulants and Backsheets. We are now into solar cells and modules too.
Which are the key end user segments for your products and solutions?
For EVA and Backsheets and Solar Cells, our key end user segment is the solar module manufacturing companies in India, Europe, Middle East and US.
For Solar Modules – it is mainly the large and small EPCs. Redington India is our sole distributor of solar modules in India.
What are the highlights and USPs of your products and solutions?
We are the biggest manufacturer of EVA and Backsheets. We bring to the table, a unique expertise that comes from 55 years of manufacturing experience from various industries.
We believe in innovation as differentiation. That's why we have a well-built full-fledged R&D facility and we spend almost 15% of our revenues for R&D.
Any future products and solutions you are coming up with for the Indian market?
We are going to increase our module and cell manufacturing capacity to 500 MW each. This is our 3-year plan. We are also contemplating wafer manufacturing as part of further vertical integration but this is only in a study stage now.
What are the key learnings you have had from the Indian solar energy sector so far?
There is always a constant comparison of Indian solar sector with the Chinese. But the fact is China is years ahead of us in solar manufacturing.
We need to build better differentiators to succeed in a big way.
What, according to you, are the key challenges faced by the Indian Solar market?
Getting good quality people is quite a big challenge that we are facing. Also, financing is a serious issue – getting funds from banks at the right time is critical for better ROI.
Related Posts via Categories