Not surprisingly, the Solar sector is attracting many new start-ups – big and small. Many professionals with engineering background and good exposure to solar design and erection have been showing a keen interest to enter the Solar EPC segment. Renewage Cleantech is one of the new EPCs in the solar horizon. Mr.Chintan Valia, the Founder & CEO of Renewage Cleantech – decided to start this on his own after having a variety of prior experience in solar for several years.
Renewage believes that the quality of components used to set up a solar power plant is very critical as that will be one of the main determinants in the life and generation of the plant. In the current scenario of following the race to cheap prices, this is a welcoming principle. Solar Mango also advocates that high quality solar installations only can help achieve India's ambitious target of 100 GW by 2022.
Renewage is also looking to enter the solar skills training segment very soon – given the fact that there is a clear need for more and more skilled technicians and professionals to add value in this exponentially growing sector.
Solar Mango team was able to catch up with Mr.Chintan Valia, Founder & CEO of Renewage Cleantech for a brief interview during the recent REI Expo 2016, held at Noida. A quick snapshot of the interview is given below: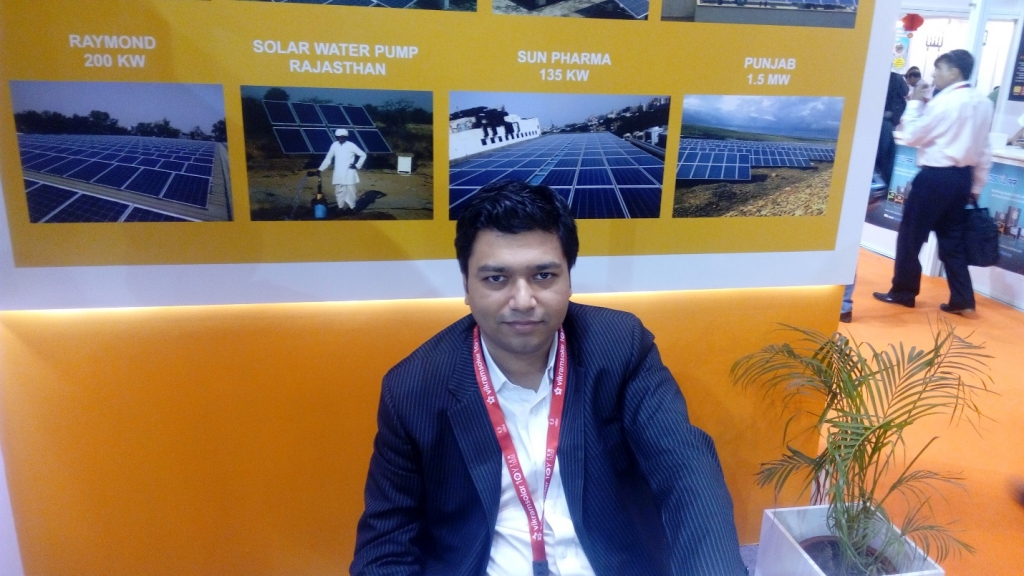 Interview with Renewage Cleantech
What are the key products and solutions Renewage provides to the Indian solar sector?
Renewage is mainly into Solar EPC solutions for the rooftop solar segment.
Which are the key end user segments for your products and solutions?
We cater to user segments – both Industrial and commercial (>60 kW) and residential (<10 kW)
What are the highlights and USPs of your products and solutions?
We use very high quality components for our installations – like AmeriSolar. We are giving 30 years power output warranty unlike the usual trend of 25 years. The panels that we use are as thick as 50 mm and the glass on it are at least 5 mm thick – all this makes it highly durable and rugged.
Any future products and solutions you are coming up with for the Indian market?
We are going to launch a solar skill training institute called India Solar Academy which will be an interactive platform for key stakeholders in the solar sector. We will be conducting 2-day workshops for young entrepreneurs keen on entering the solar sector.
What are the key learnings you have had from the Indian solar energy sector so far?
Awareness levels on solar have increased tremendously in the last 5 years. We need to leverage this fact to create space for high quality components rather than cheaply priced products.
What, according to you, are the key challenges faced by the Indian Solar market?
Competition is too high. It is increasingly becoming difficult to convert the prospects into business.
Perceived quality of installation and components are very poor amongst the solar adopters. As a result of this, it is a challenge to convince prospects to go solar.
Technology is also one of the challenge – In all these years, efficiency of solar panels has increased from 12% to just 15%. We need to have more high efficiency panels at economically attractive prices.
Related Posts via Categories