India's only dedicated solar recruitment firm
Looking to Hire the Right Talent
for your Solar Energy Firm?
Take assistance from the #1 Solar Expert for all your recruitment needs
Talk to Solar Mango's India Solar Talent today.
Send a note to talent@solarmango.com or Call Muthukrishnan 9952910083
India has an ambitious target to have 500 GW of renewable energy by 2030, from about 150 GW in 2022.
A large portion of this additional capacity will come from solar power.
The country already has over 50 GW of solar power plants installed, and this will increase 4-5 fold over the next few years.
All these imply the need for tens of thousands of skilled solar energy professionals, well trained and qualified to implement high-quality solar installations across India.
The Solar Talent division at Solar Talent was launched specifically to cater to the talent and recruitment needs of the India solar energy sector.
Backed by the deep solar industry experience of the Solar Talent team, we are the only dedicated firm in India who can assist every solar energy company in India with all their solar recruitment needs
Can assist for over 100 Indian cities and towns - from metros to tier 4 towns
Highly flexible approach and very quick turnaround time
Why do you need Solar Talent for your Recruitment Needs?
The only recruitment firm fully dedicated to Indian solar power sector recruitments
Our focus on solar has provided us with one of the largest databases of solar professionals' profiles in the country
We use our deep knowledge of the solar power sector to provide customized recruitment assistance so that your firm gets the best talent with minimum efforts from your team
Through our partner network that spans industry experts, training organizations and premier educational institutes like IITs, we can also assist your firm in solar education and training requirements
Solar sector roles for which India Solar Talent will assist in Recruitment
Technology & Design
Analyst
Design Engineer
Product Engineer
EPC Head
Solar Consultant
Sales & Marketing
Manager – Sales
Sales Executive
Business Development Executive
Projects & Operations
Head – Operations & Maintenance
Project/Site Engineer
Manager – Project Development
We can assist in identifying talent from junior to senior most positions.
Highlights of Solar Talent Recruitment Offering
No upfront fee, fee only if we successfully place a candidate
Our success fees per recruit are lower than the industry standards
We will provide a replacement candidate at no fee should the recruit leave within three months of joining
Using our consulting team's extensive network, we are well positioned to assist you in senior management and CXO recruitment needs
Owing to our large, pan-India database of profiles, we can assist you with solar professionals for lower tier towns and even small towns.
Why Solar Talent?
We understand the solar energy industry and market like nobody else does in the country.
We can understand your requirements as a fellow corporate in the solar energy sector, unlike a horizontal HR consultant or company.
Solar Mango is the #1 Solar Guide. Our objective is to create awareness, educate and assist diverse segments on solar energy, its benefits and applications.
Has in-depth understanding of the solar business and its dynamics
Has one of the largest contact databases for solar industry owing to our largest solar website (Solar Mango), solar newsletter (Mango Scoops)
Sample solar professional profiles in our database
India Solar Talent is a recruitment division exclusively for Solar. IST has 1000+ profiles for Solar with following focused skillsets: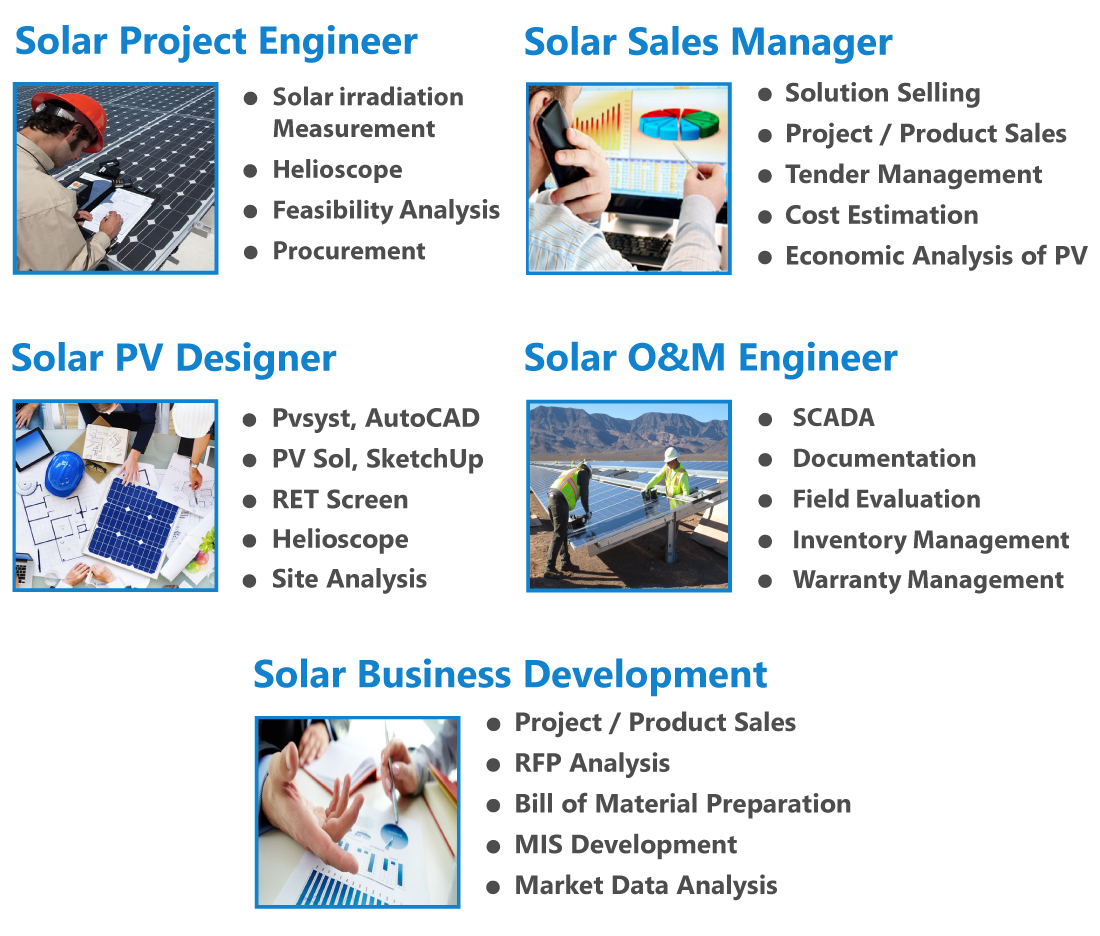 Interested?
If you are a recruiter: Call Muthukrishnan
9952910083, or Send in a brief email to
talent@solarmango.com with brief details about your company and the profiles you are looking for
If you are looking for a position: Send us your latest resume along with brief inputs of your aspirations in the covering letter. Please note that we give preference mainly to candidates with some experience relevant to the solar sector.
Send to
talent@solarmango.com
Key solar professional roles that Solar Talent regularly assists
Role

Key responsibilities

Solar Installation Engineer

Basic knowledge of electrical engineering, power distribution & transmission

Efficient coordination with internal teams such as design, civil engineering and OEM

Solar PV Design Engineer

PV calculations & designs

BOM preparation

Coordination with project teams

Solar Project Manager

Design, estimation, costing of civil & steel structural works

Site execution of civil work within the time frame and within the budget

Coordination with design and procurement teams

Solar O&M Engineer

Regular monitoring and inspection

Preventing & corrective maintenance

Coordination with OEM vendors for equipment maintenance

Solar Tender Executive

To keep track of all govt. bids and tenders

Handling all transactional details, preparing tender documents and follow up

Liasoning with govt. Officials

Solar Business Development / Sales

Customers – Find new & derive more value from existing ones

Markets – Figure out new customers live & find a way to reach them

Relationships – Build & leverage relationships founded on trust and integrity to facilitate opportunities

Solar Marketing Manager

Developing, implementing strategy and activities like branding, communications, thought-leadership content marketing, market analysis etc.

Communicating the company's value proposition to the right audience at the right time

Solar Procurement Manager

Establish procurement strategies for acquisition of materials

Receiving and tracking of project materials that optimize quality, cost and timely delivery criteria
Send in your requirement here
[everest_form id="15347"]