Solar Modules at pocket-friendly prices by Surana Solar
An Interview @REI 2016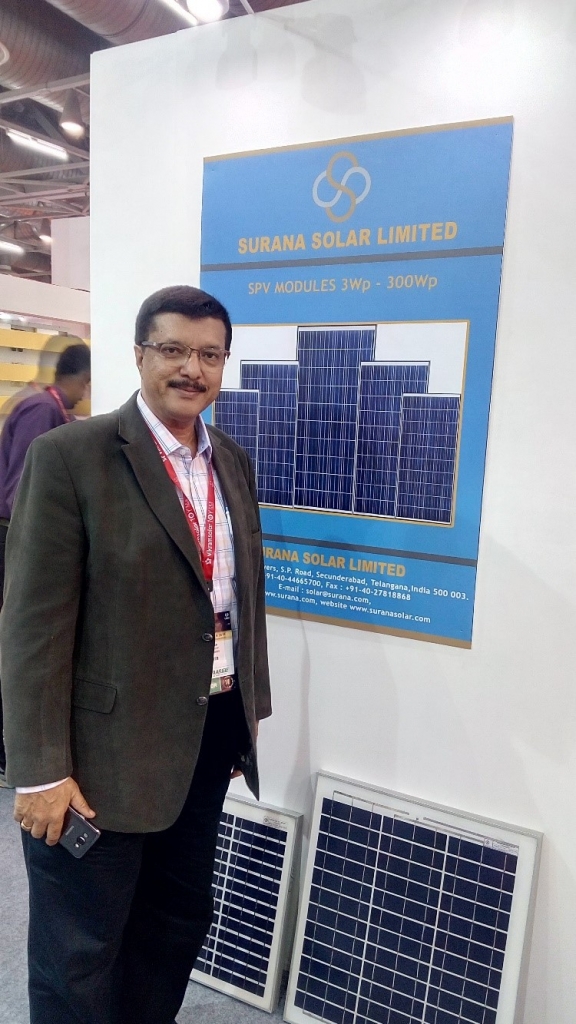 Selling solar panels at most competitive prices has been the survival strategy for most Indian solar modules companies. Some companies are able to do it. Others fail in the long run and shut shops. Even though India has a total manufacturing capacity of over 4000 MW of modules, most of these companies are operating only at 20-25% capacity utilization. Price competition from Chinese brands is the key factor behind this. Therefore, Indian solar module brands have no choice but provide competitive prices.
The above is the synopsis of Solar Mango's interviews with many Indian Solar module makers – including Surana Solar.
Surana Solar Limited is part of the Surana Group Hyderabad, India. Founded in 1978, the Surana Group is one of the well-diversified conglomerate in the country which is active in the areas of Solar & Wind Power, Telecommunications, Metal Processing and Infrastructure. Surana Solar Limited founded in 2007 – is one of the leading Manufacturers of Solar Photovoltaic Modules from South India. The Company is also into EPC of Power Projects on turnkey basis on MW scale. They have already commissioned about 10 MW projects and another 30 MW is in their pipeline.
Apart from production of solar modules, they are also into trading business and EPC solutions.
Solar Mango team was able to catch up with Mr.Sanjay Sanghi – Sr Vice President of Surana Solar Ltd for a brief interview during the recent REI Expo 2016, held at Noida. A quick snapshot of the interview is given below:
Interview with Surana Solar
What are the key products and solutions Surana Solar provides to the Indian solar sector?
Surana solar has a module manufacturing capacity of 100 MW – located at Hyderabad. Our key areas of solar business are:
Solar Modules
Turnkey EPC solutions
Trading of solar inverters (Hitachi and AEG)
Which are the key end user segments for your products and solutions?
For modules – it is both EPCs and developers.
For EPC business – it is mainly large scale developers
For the trading business – we work with nation-wide solar product dealers
What are the highlights and USPs of your products and solutions?
We provide good efficiency panels (13-15%) at very good rates.
Any future products and solutions you are coming up with for the Indian market?
We are planning to get into the LED lights market by next year. We also are in the process of setting up a 70 MW solar cell manufacturing unit – out of which 35 MW is already purchased and yet to be commissioned.
What are the key learnings you have had from the Indian solar energy sector so far?
India solar market is growing very rapidly. We need to keep pace with the speed. Present Government is very supportive. Hence we need to leverage it.
What, according to you, are the key challenges faced by the Indian Solar market?
For domestic solar module manufacturers like us, competition from China is the biggest challenge. Will be great if Government finds a solution to boost domestic manufacturing.
Related Posts via Categories